"Fitting in" can be awkward for kids. It's not always easy to find peers who share common interests - these are tricky waters to navigate for any young person. Some children find a sense of belonging through team sports. That same intense competition that pushes some children is a major turn off for others. So why not encourage your child or pre-teen to form a band? It's a team building activity that is simultaneously fun, fosters creativity and creates a challenging learning environment.
Here are some vital benefits for children participating in a group music environment:
1) A band will get your child out of his or her shell. While some rock stars crave the spotlight others are soft-spoken until they take the stage. Just think of the artist Prince! Kids that might otherwise struggle with talking with others can build confidence through this alternative form of communication. Sharing music with others will allow them to feel a deep bond with their band mates that will diminish feelings of isolation. The shared love of music will also cultivate hours of conversation, providing the children with established common ground. Plus, the confidence that comes along with learning a new skill is priceless.
2) Bands teaches compromise. The ability to give-and-take is a skill that many children (and adults) are lacking and, as any musician can vouch for, learning to be flexible in your artistic vision can be extremely difficult. However, in a band this is a must, as it is multiple people who are coming together to create a single final product. This is a lesson and skill that will serve your kid for a lifetime.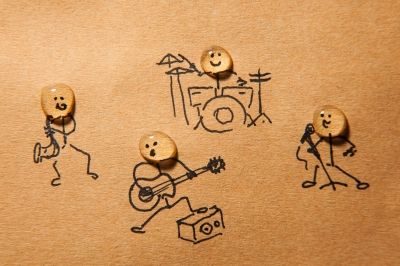 3) Bands are a healthy way to process feelings. Being a kid is tough, regardless of who you are. It is imperative that kids have outlets for frustration and stress.
4) Joining a band reinforces problem solving capabilities. A band blends artistic preferences and personalities. No doubt, this can cause clashes. However, learning to compromise is not the only challenge that faces a band. There's the challenge of coordinating schedules, learning sheet music, deciding responsibilities and more. Learning to patiently sail through these problems will undoubtedly carry over into the later years when your child is learning to balance their schedule or struggling to tackle a math problem.
5) Music strengthens communication skills. You're probably aware that playing an instrument betters mathematical skills and memory. However, it is becoming increasingly apparent that music strengthens language aptitudes and motor functions as well. Yes, this will help them out in the classroom, but it will also undeniably help them navigate social situations.
6) Bands provide further incentive to practice. There are times that your child will love tinkering on the keyboard or playing the drums. There will also be times they would rather stretch out in front of the TV. Nagging from a parent or instructor to practice will only go so far. The positive pressure to not let fellow band mates down will motivate your children to practice more than they would otherwise.
Encourage your child to participate in music from an early age and, as they age, they'll be practiced in healthy self-expression and the pursuit of meaningful friendships. Let your child guide the decision of which instrument to pursue. You can view plenty of musical instruments for kids and adults at West Music and check The ZOEN to find an instructor to get your child started on a whole wide range of options, from the flue to the banjo.
Playing an instrument and creating music with a band is something that can be enjoyed for a lifetime; there's really no limit to what your child can learn.
Thanks to
Jo
hn Nicholson
for submitting this guest post! If you've got a great idea for a post, we'd love to hear from you. Just email your idea to admin@zenph.com.