Google just made the world a bit smaller. Yesterday they launched
Helpouts
-"Real Help from Real People in Real Time."
Helpouts integrates Google products (Hangout, Calendar, Wallet, G+, eventually Glass etc.) in a marketplace for live coaching, learning, support and other expertise-sharing over webcam. It's a broad bold move that may position Google to be to the service industry what Amazon is to e-commerce.
We're excited about the Helpouts launch and how it will expose live webcam interaction for learning, self-improvement and advice to hundreds of millions of people who are still unaware of this growing trend.
A year and a half ago,
The ZOEN
launched our browser-based platform for live one-to-one music lessons via webcam. We're proud of our pioneering efforts and especially of the wonderful community of teachers and students who make The ZOEN a part of their musical life.
We'd like to take this opportunity to share some interesting tidbits about The ZOEN and how we've helped introduce a growing future phenomenon.
While the majority of ZOEN students currently come from North America, an exciting discovery for us has been the number of international students seeking out our teachers. We've delivered lessons to active U.S. military deployed in Afghanistan, to students from Shanghai to London, from Paris to Chennai. The map below shows a few of the places outside the U.S. where ZOEN students have come from, some of these cities with as many as 30 students signed up: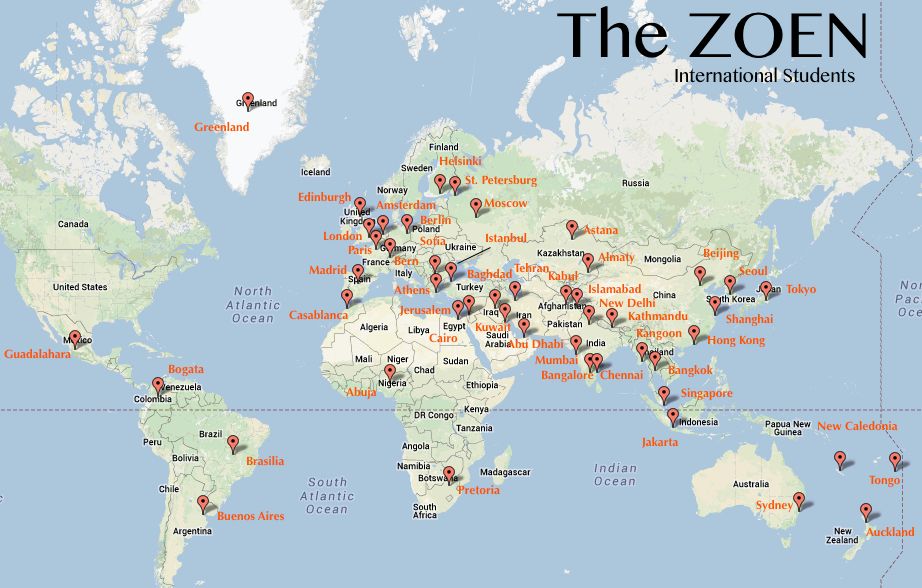 The Diverse ZOEN Musical Community
Students in The ZOEN range in age from 6 to 81. They come from a variety of musical backgrounds and have one thing in common: they love The ZOEN because they've found a teacher who's a great fit by having access to teachers across the nation, not just the choices in their community. The average distance between ZOEN teacher and student is about 700 miles.
We're honored by the dedication and hard work of our great teachers and students and excited about the future. Google Helpouts is further validation that what we've pioneered in the last year and a half is a trend that will continue to grow. It's all about live human interaction, sharing ideas, and learning unlimited by geographical boundaries. The world is indeed growing smaller by the minute.