Your music teacher has years of training and personal experience to draw from. However, there are a few questions your music teacher just can't answer for you. Here goes:

1) How long will it take me to learn to play?
I have no idea. But I do know that a student who sets a time limit on learning is a student who's already planning to fail. Different students learn at different rates, but students who keep at it will always do better than those who set unreasonable goals and are then discouraged when they don't achieve them.
2) I've never played before, but I just want to learn (insert famous showstopper guitar solo here)?
A good teacher already has a plan for you, a way for you build genuine skills that will allow you to keep growing as long as you play. He may be able to show you exactly how to play the piece you want, but if you're not ready for it, you're just going to waste a lot of time and end up frustrated.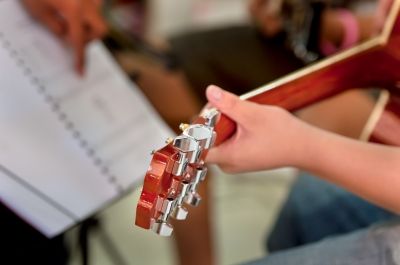 3) Can I work on this separate type of music with you at the same time?
Probably not. Diluting the work you're doing will seldom help you to develop faster.
4) Can I take lessons every other week?
If you're a beginning student, you're more likely to develop bad habits in two weeks than to reinforce good ones. It's better to take a month on and a month off so that you and your teacher can set some goals. Also, if you miss a lesson, it's that much harder to keep up. Also, how do I sell your time slot on the weeks you're not here?
5) Can I take two or more lessons a week and learn faster?
Maybe. Are you doing anything else with your time like going to school or working? Learning deeply is better than learning quickly.
6) What do you think of this instrument I bought?
I don't know. It depends on whether you can return it. Do you like it? Does it inspire you to play? If so, it's a good instrument for you. If not, see if you can get your money back.
7) How many hours a day should I practice?
None. Make music instead. Time spent for it's own sake seldom means anything. You've been watching TV for hours a day since you were a kid. Can you honestly say you're getting better at it? Time spent focused on specific goals is what matters.
8) Are scales important?