With access to so many electronic devices today, both teachers and students have a multitude of ways to learn and collect information. One of the best apps out there for collecting and organizing a lot of varied information is

Evernote

. Evernote is a cross-platform and multi-device compatible note-taking app that allows for text, image, audio, and file notes to be saved. With numerous features helping in organizing and finding the information you want in your collection, Evernote is one of the top note-taking apps available. So let's look at some ways both music teachers and music students can use Evernote to aid in their studies.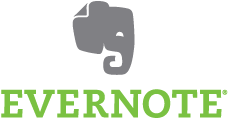 While print magazine sales are down, they are not gone. Picking up the occasional copy of Guitar World or Electronic Musician is helpful. It used to be teachers might loan their magazines and books out to students, but we're well into the digital age now so let's update that approach. With Evernote, you can upload scans of magazine articles/book chapters or use the Evernote Web Clipper to save webpages to your account. Evernote runs all images through OCR (optical character recognition) software to make text within images searchable. This means finding all saved articles pertaining to a specific subject is easy. With Evernote though, we can take it a step further. You can instantly bring up any of these articles on your computer, tablet, or phone as long as you have an Internet connection. You can also share saved articles to specific students for their usage at home. To further add to your organization options, Evernote includes tagging so you can create and filter notes using tags.
Tracking Student Progress
There are web apps and software you can download to your tablet or computer to help manage student information and notes on each lesson. But most of these cost a good bit either up front or as a monthly fee. Instead, give Evernote a try. There are many ways on how you handle it, such as a notebook called Students which contains other notebooks for each student. My preferred approach is to have a note per student with a table that I use to track what is done each lesson and what is next on the agenda. No matter how you use Evernote to track your students' records, you have access to them on multiple devices and can even share the notes with each student. You could use a URL shortener like

bit.ly

to create a standardized link like bit.ly/FirstNameLastNameLessons to link to each individual student's note. This would make it easy to share with the student and they can view the note in any web browser.
Create Lesson Plans or Checklists
Maybe instead of tracking a student's progress as you go, you prefer the traditional "lesson plan" approach. Or you might just want to create a progress checklist to create milestones for the student. Make the plan for each student and share it with him or her.
Tracking Student Payments
This is probably one of the best uses for Evernote in regards to us music teachers. While using a spreadsheet with fancy formulas may make some things easier, sometimes we want something simpler or just want something we can access on the go. Creating a table in Evernote to track payments as a whole or by the individual student let's you access it readily to make sure you are getting paid like you should. If you're the type to provide written receipts to students, then snap a quick picture of each receipt into Evernote and have an archived copy of it.
Snap Pictures of Handwritten Notes
I already mentioned that Evernote lets you load in images, which are then run through OCR software. It's not restricted to printed text though. Try in on your handwritten notes as well. Even if it can't recognize your squiggly writing, it is an effective way to archive the notes you create on the fly during a lesson. Maybe you're a student in a group lesson? Take a picture of the whiteboard and save it to Evernote for later reference.
Not only can you save pictures and files into Evernote, you can also take audio notes. This is very similar to the portable voice recorders that were used. You could have the student play a piece and record the audio into Evernote. Then later you can pull that recording up to show the student how much they have progressed. One thing to note however is that the audio quality is going to be low in order to maintain the "note" style saving.
Evernote is an app that many people find to be indispensable after they first try it. While I have only mentioned a few ways to use it with your lessons, from tracking progress to just saving useful articles and tips, Evernote's uses are vast. The more you try to incorporate Evernote into your routine, the more uses for it you'll surely find.
James Higgins is a songwriting coach, performing guitarist and music teacher with 14 years of experience. Check out his blog

Unveil Music

to get the inside scoop on being an independent musician or

book an online lesson with James

.