Learning an instrument has benefits for students of all ages. While there many studies that demonstrate the importance of music for children, the benefits for seniors are often overlooked. A
recent study from Emory University
confirms that musical activity preserves cognition as we age. According to the researchers, "The cognitive enhancements in older musicians included a range of verbal and nonverbal functions, as well as memory, which is the hallmark of Alzhemier's pathology."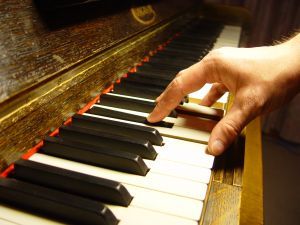 Inspired by the Emory study, we decided to reach out to
ZOEN piano teacher Anna Fagan
who has been teaching piano and keyboard for 35 years to adults who are just beginning, as well as those beginning again. Here's why it's time for seniors to start playing the piano:
How do you see piano lessons benefiting retired adults and seniors?
---I'm working with students in their 70s, 80s, and 90s -- some who have never played any instrument before. Utilizing digital keyboards like Yamaha Clavinovas with their "follow-the-light" technology is allowing these seniors to enjoy the experience of playing with a fully-orchestrated sound, while learning basics of music reading. Aside from the pure enjoyment and relaxation this provides, it also helps to reinforce those important "right brain/left brain" connections.
What is the biggest concern adults have about learning piano?
---Most adult students are concerned that they will not be able to find enough time to practice between lessons. This is one reason that Recreational Music Making (RMM) is gaining such popularity -- the focus is on relaxation techniques, enjoying music, and being satisfied with the slower pace.
What are some key advantages adults have over children in learning music?
---Adults have such a wealth of personal experiences to draw on! I love using analogies when I teach, and find it much easier with older students.
Any additional advice for adult music students?
---Carefully consider your goals before you begin piano/keyboard lessons, so you can share them with teachers you are thinking of working with. Are there particular pieces you are hoping to eventually be able to play? Is there a specific type or style of music you are interested in? Do you have a goal to play for your church, or with other musicians? Perhaps you just want to learn what all of the buttons are for on the keyboard you just purchased...!