Wisdom is the bridge to more thoughtful musicianship. We asked our teachers to weigh in with their best advice for musicians at any stage in the game. Here's what they had to say:
Always be a student.

The older I get, the clearer it becomes to me that there is still SO much to be learned!
To be a musician, you must

listen to the music that's in your heart

and share your own expression of it through the way you perform the notes. The music must transcend mere notes on paper if it is to be performed and heard in its full magnificence.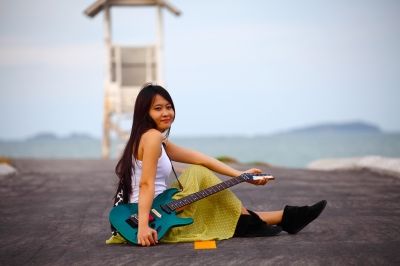 Practicing with an audience is the best practice there is! Playing for your own personal enjoyment is a fine and worthy reason to pursue music, but to truly get the most out of your musical study

you must perform at some point

, whether it's in front of a crowd or just a few friends. It gives you something to work toward and increases the pressure just enough to make you push yourself. And it get's easier every time you try.
Listen!

Ours is the business of sound, so whether you are in it just as a hobby or if you are planning on auditioning for the Chicago Symphony Orchestra, be listening to other successful musicians and emulate the sounds you hear.
Rhythm may be the single most important element at any stage of playing. Without the element of time to guide us, music loses definition and structure.
Whenever you are bummed out about having to practice, imagine yourself in a vast sandbox full of notes, rests, licks, and phrases. In the grand scheme of things,

music is about making something out nothing

, about pulling music out of thin air. You are lucky enough to set time aside to participate in that activity. Who wouldn't be excited about that?!
Never lose sight of what makes music important to you.

Regardless of how much a passage is frustrating you or how much you want to throw your instrument at the wall, remember that music is a medium allowing intangible structures to pass through our souls.
Don't listen with your eyes. We live in a world of overstimulated multimedia. Instead of just looking at a Guitar Tab, playing what it says, and thinking that it's correct, take the time to close your eyes, and listen to what you're playing. Make sure the notes are correct, make sure you're bends are to pitch, make sure all the little nuances are there. There is a big difference between playing the instrument and practicing it. Playing will always sound better....after you've practiced.
At any level, in any style, for any purpose, playing the music you love is what it's all about.
- Phillip Amalong is a composer, performer and recording artist who

teaches intermediate and advanced piano

.
Do you have any advice to add? Has a piece of advice shaped your development as a musician? Please share your thoughts in the comments below!